Elizabeth Samuel
Regular price
$125.00 USD
Sale price
$99.00 USD
Unit price
per
Sale
Sold out
Share
Turn your dinner or brunch presentation from average to gourmet with a brand new Acacia wood Charcuterie board serving platter and serving bowls. Think of how lovely a spread of delicious cheese and fruits will look on a sturdy Acacia wood board. The colors from your fresh veggies will pop against the warm wooden color. White serving bowls are perfect for displaying yummy condiments and dips! Put a dip in the middle, and then arrange crackers and vegetables around the perimeter of the board. You can place freshly baked treats or fresh fruits and vegetables with layers of garnish for a very professional presentation. After seeing our selection of charcuterie platters, serving trays and bowls, you're probably wondering if the bowls are dishwasher safe? The answer is yes! The serving bowls, but the serving platters need a little move love by handwashing them.

This cheese board set is made from rustic Acacia wood that can minimize the wear on both your knives and the board. Environmentally friendly and it will not absorb the smell of food, more durable and sturdy than bamboo. Not easily out of shape which is great because you they will have a long service life with proper care.

How do you care for your new board? Hand-wash the tray with mild soap and warm water! Rinse well, wipe it down, and let air dry. Do not put it in the dishwasher, wipe it with oil for maintenance and it will maintain the gloss of acacia wood.

What comes in the gift set?
Two slide-out drawers store 4 free steel cheese knives with ceramic handles; no need to buy the knives separately. You also can place the tasty snacks and nuts in the middle of the drawer. Extra 2 ceramic bowls are convenient for full of various sauces you need.

13" x 10.6" x 1.5"

Ideal gift for: weddings, bridal showers, engagement, mother's day, fathers day and housewarming parties.
View full details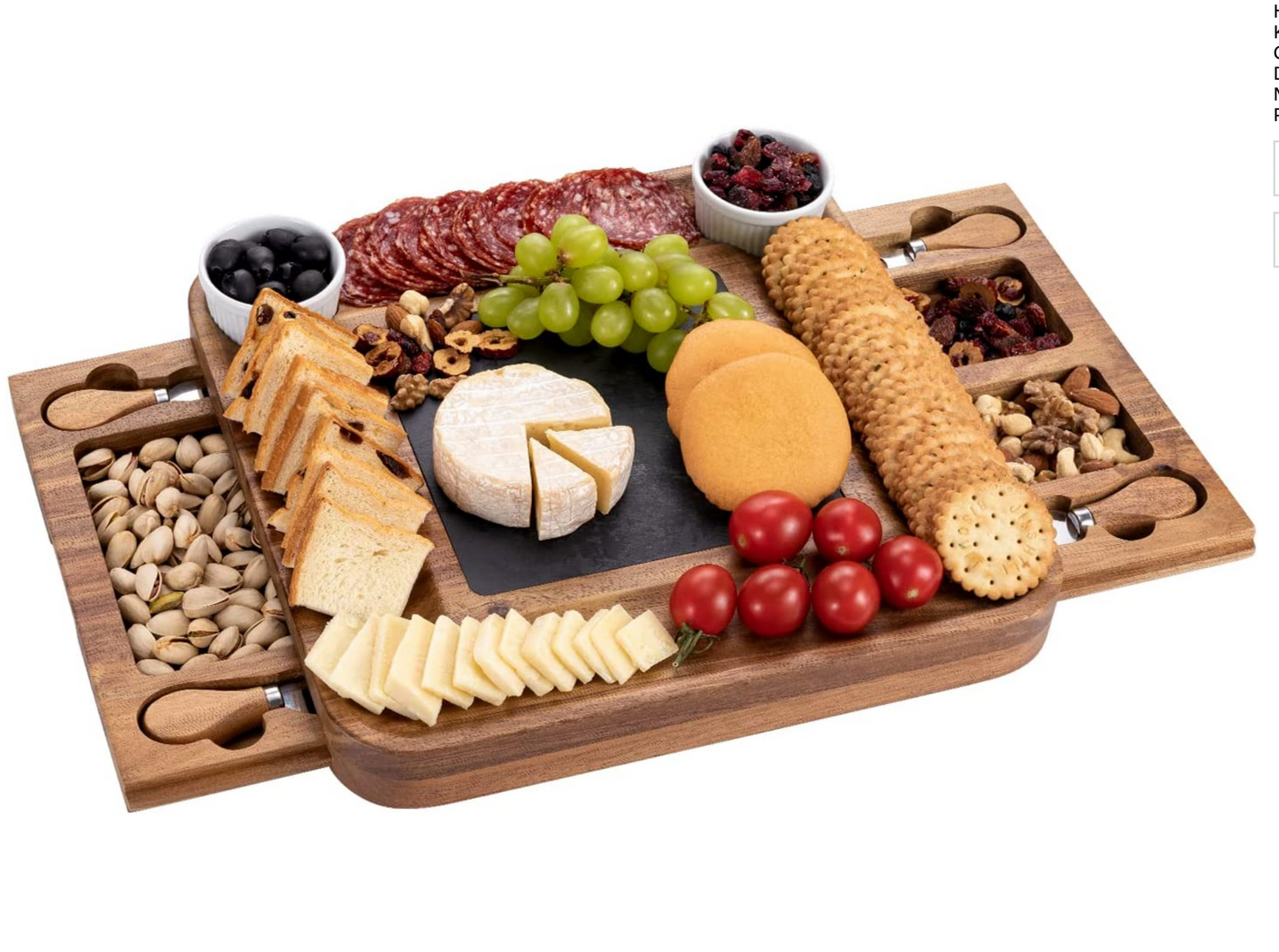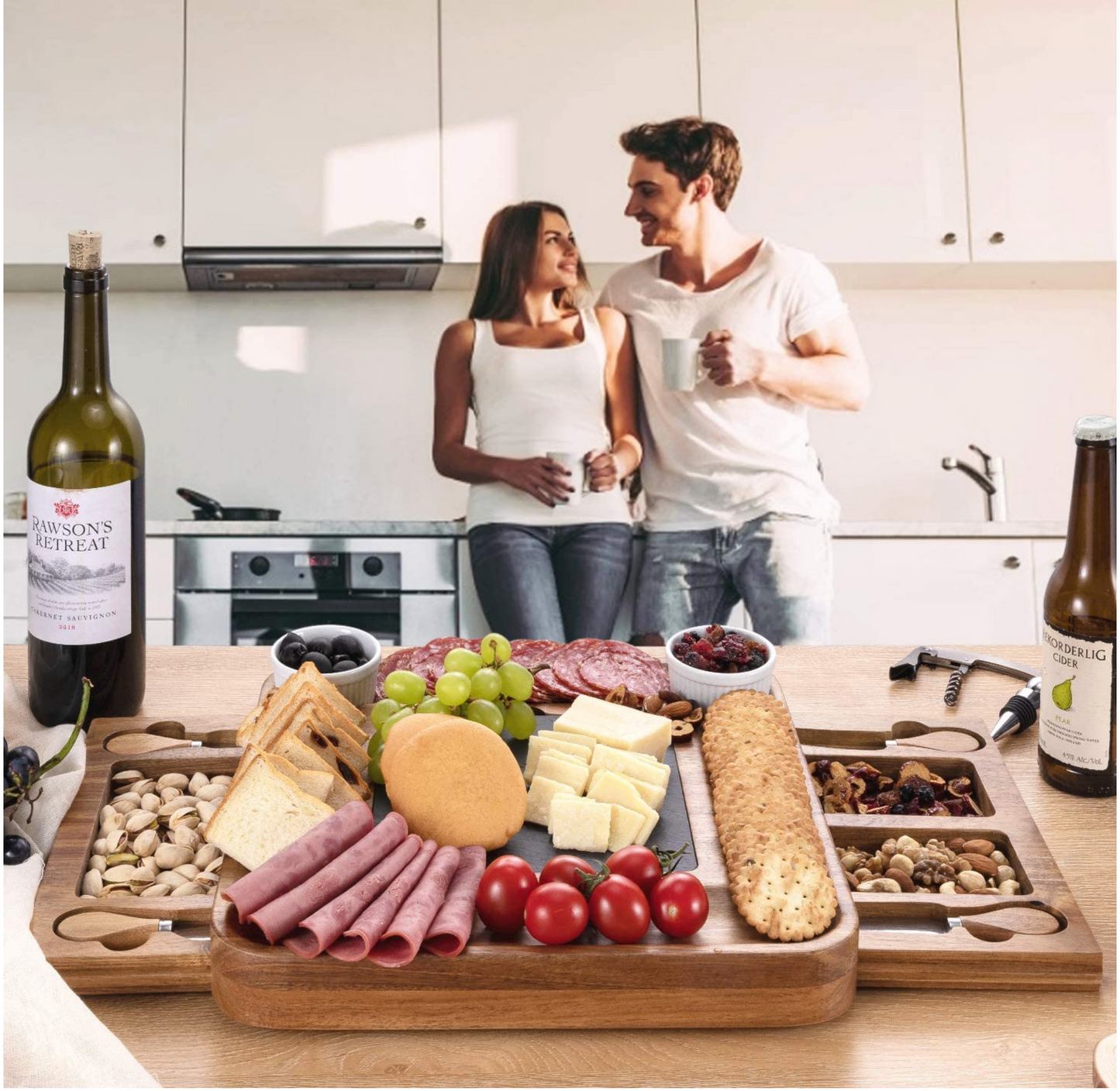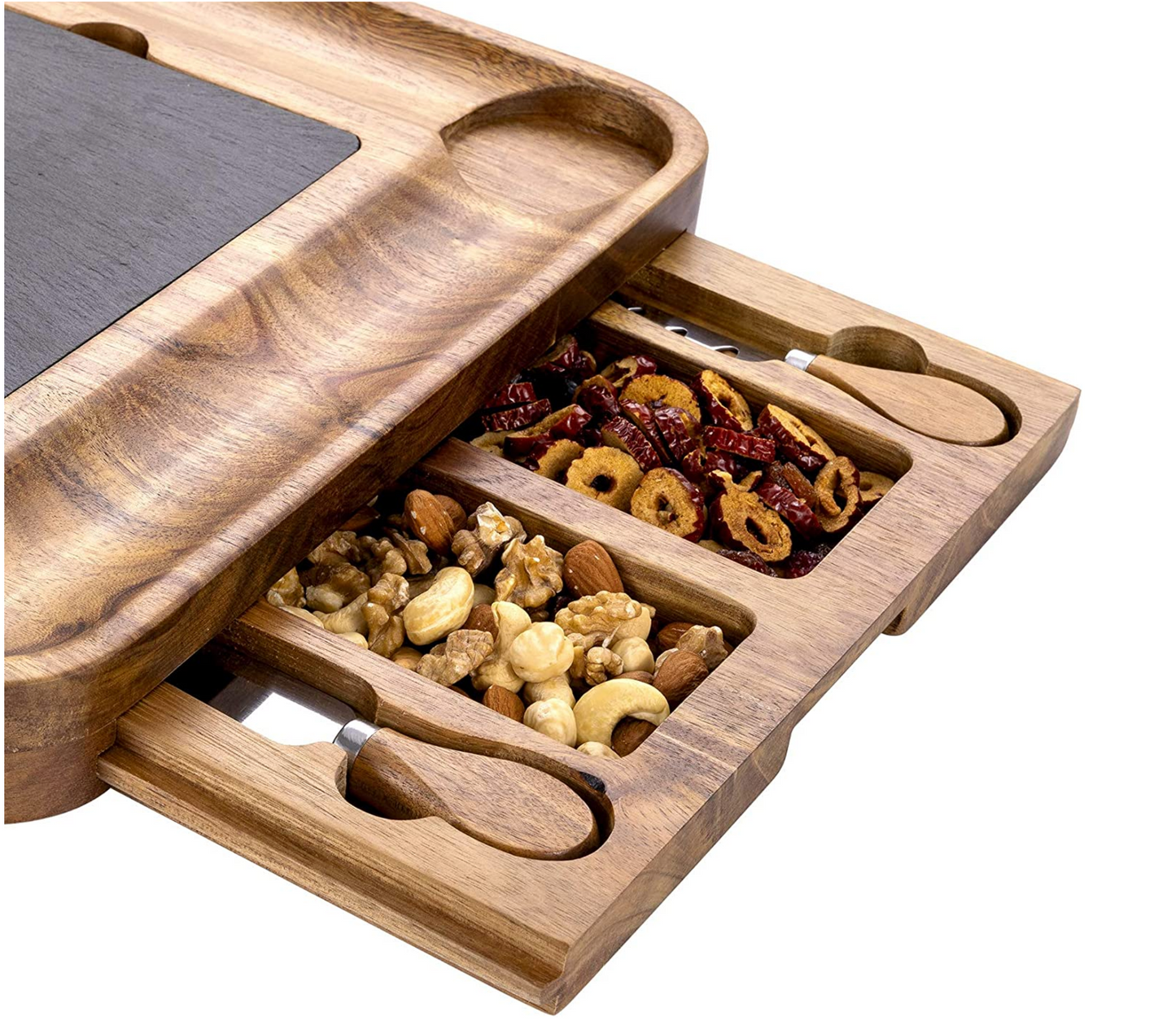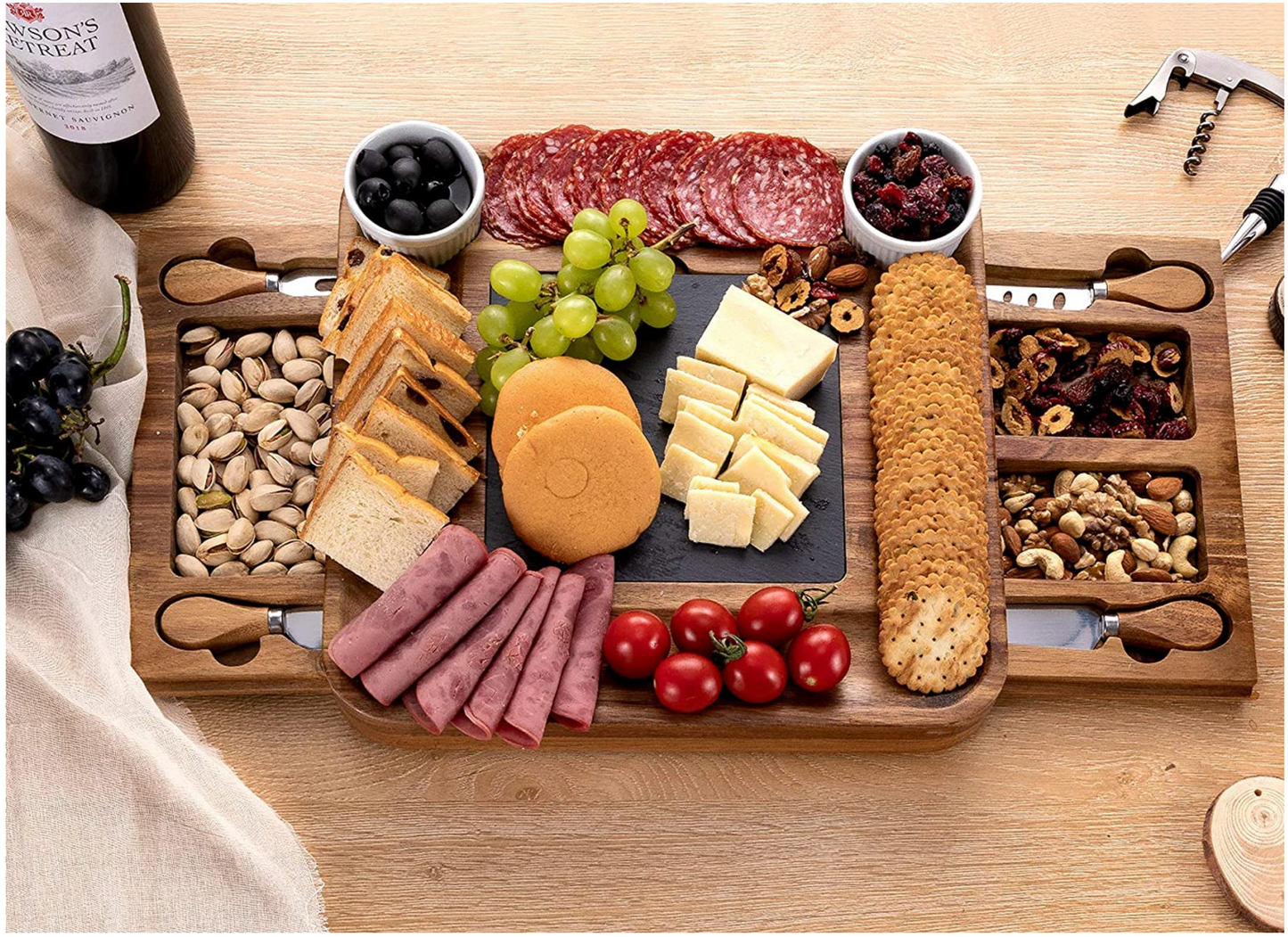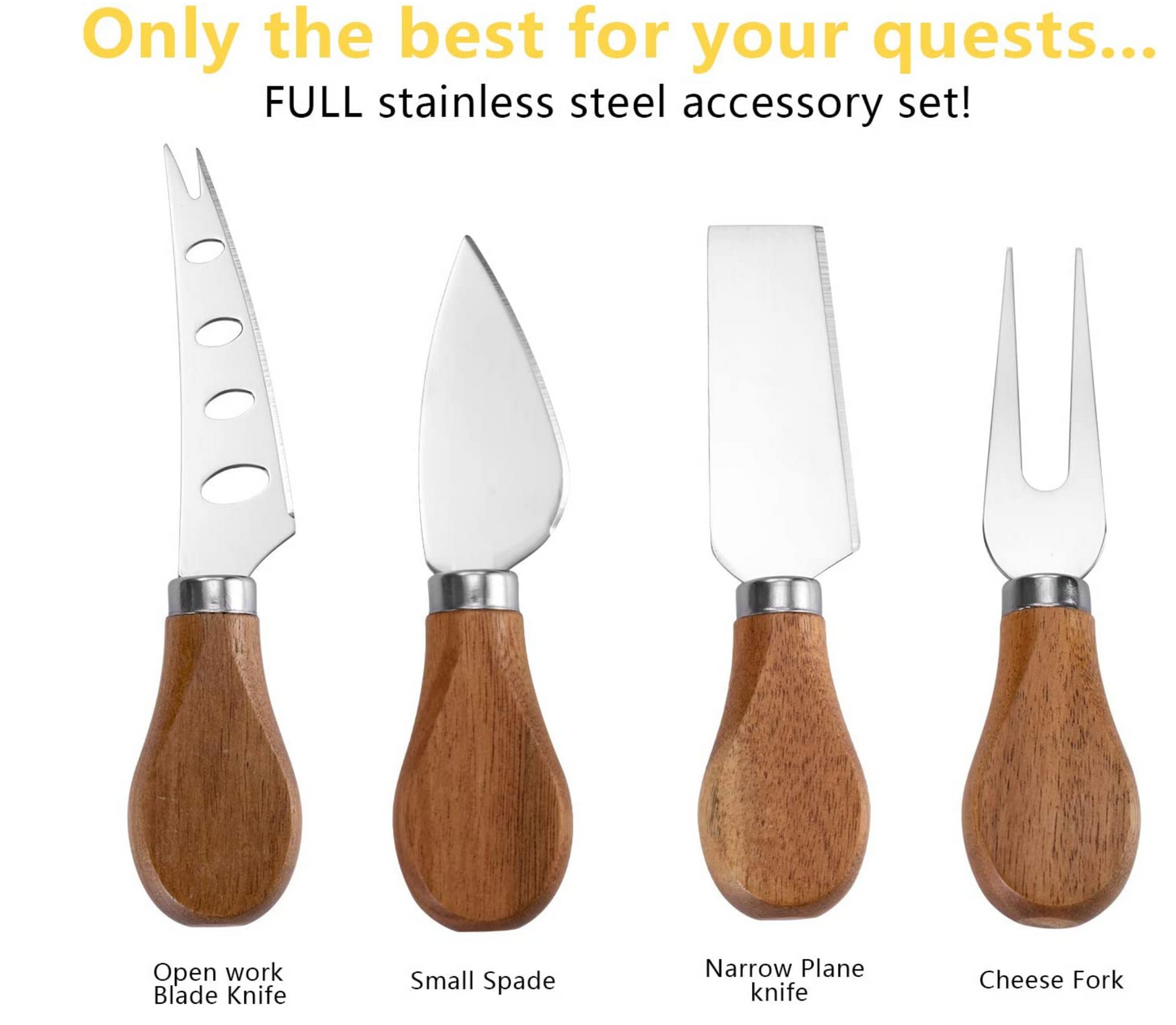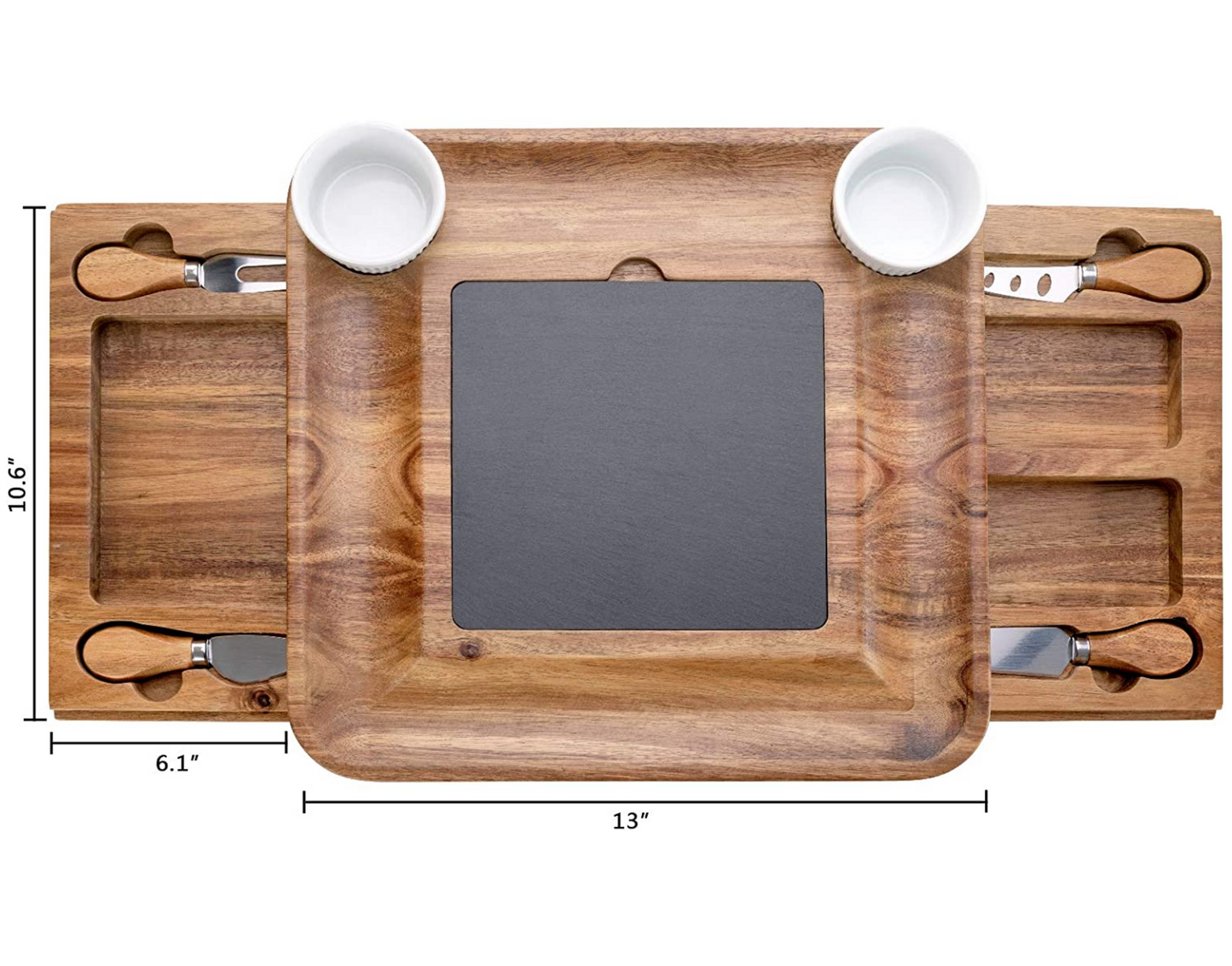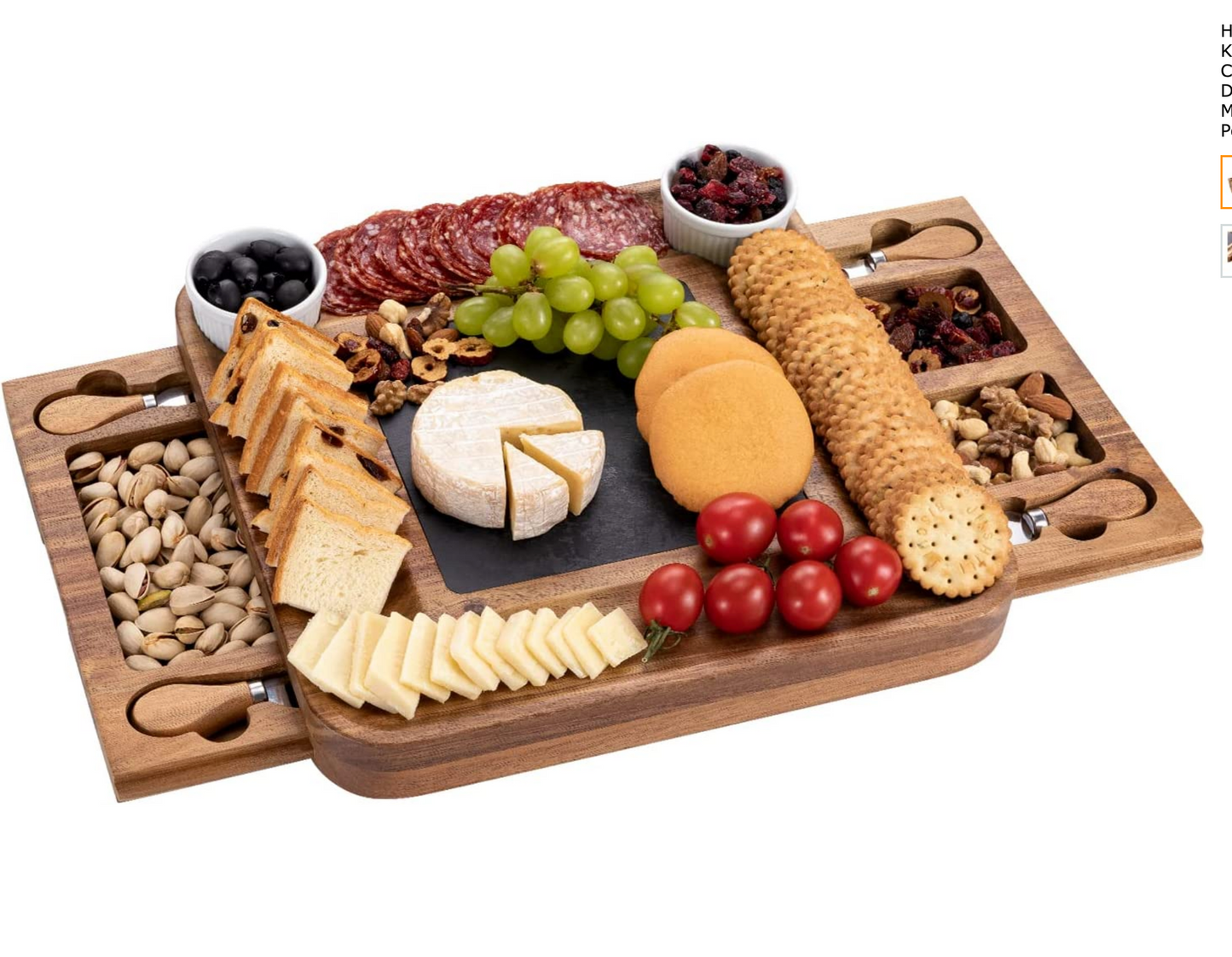 I absolutely love this cheese board. I've put off getting one for years but when I saw this one I had to give it a try. Even my husband who was annoyed to have something else in the kitchen really likes it. It has a the pull out drawers that can be removed for easy clean-up. Definitely keeping this in mind for gift giving.
Perfect!
All you need in a perfect size charcuterie board! The marble slab is perfect for fruits that stain & softer cheese. You'll have plenty of room for all of your other items on the rest of it. I love the 2 slide out drawers that are sturdy enough to stay in place when you carry it to another spot. I'm really happy I went with this one! Thank you 😄
Sturdy, pretty cheese board
This is exactly what I'd hoped it would be! The board itself is sturdy, and the marble slab is beautiful and solid. (If you want it to keep meats and cheeses cold, pop it in the freezer overnight before using.) While the board doesn't look large, when fully extended, it holds enough food for a party of four. The included knives are also well made and VERY sharp. Great purchase.
All-in-all, really happy with it.
Spent a long time looking at charcuterie boards before deciding on this one and I'm really happy, overall. The grain of the wood is beautiful with nice contrast and depth. The drawers are well made and the knives are lovely and SUPER sharp. I did find that cleaning it can be a challenge in some spots where the grain of the wood is not smooth, but I think the texture adds to the beauty, so it's no big deal. Definitely get some cutting board oil and use it before the first use and after each use once you have wiped down the board with a damp cloth. You can really pile a lot onto this tray! I really appreciate the removable marble/slate tray as this allows you to keep meat and cheese chilled and makes it convenient to return those items to the fridge for a bit when necessary.
Dress to impress (your guests will say woah) :)
Wow..... this product arrived in 1 day (Based in CA). My guests were all impressed with the design of the board. I enjoyed the marble where you can pop in the freezer for a few minutes to keep the cheese nice and cold. I'll definitely be taking this up to Napa for wine tastings and BYO picnics in the future.
More details
FAQS

Do You Ship Internationally?

Yes, just enter your address and you should see an option to ship via UPS internationally.

How can I contact you?

We are LIVE in our chat just send us a message unsing the chat icon on the right side of the screen. You can also email info@elizabethsamuel.com
Shipping Info

Standard domestic delivery (in the USA) usually takes between 3-7 business days.Priority domestic delivery requires normal processing times but will take 2-3 business days for delivery. International delivery usually takes between 5-15 business days. *Delays may occur with shipping.Processing Time:For items that are not custom, please allow up to 1-2 business days (excluding weekends and holidays).Custom items may take up to 30 days for processing.Delays may occur around promotional sales events and the holidays.  Subscribe to our emails

Be the first to know about new collections and exclusive offers.

Email